FRONTIERSMAN
The Frontiersman is designed with a modified McClellan US Military fork.
The front of the fork and back of the cantle have loops and rings to carry more gear than a western saddle. This seat is excellent for distance riding. Just relax and enjoy the ride.

ORDER WITH OR WITHOUT FLAP

To see more options for this model





















LAW MAN
The Law Man is made on a modified McClellan tree. It has the comfort
for long distance endurance rides or a relaxing trail ride.
It has loops and rings on the fork and cantle to carry everything need. A small horn can be added.
Order with or without flaps

To see more options for this model












PIONEER TRAIL
Plantation style trail riding saddle to give you hours of comfort. A deep,
wide flat spot in the seat plus a 4" tall cantle provides comfort and support. A moderate flap to protect your legs from horse sweat. 2" stirrup leathers for no binding or straining on the knees and ankles. What more could you want in a comfortable and secure saddle.
ORDER WITH OR WITHOUT KNEE ROLLS

To see more options for this model








SIRA
SIRA stands for Simple-Innovative-Riding-Accessory. Made for multiple
disciplines, the saddle makes an efficient work saddle as well as a light trail saddle. A great saddle for endurance riding as well as working your show horses in the arena. A good flat spot with a centered balance point, gives this saddle a ride beyond belief! Add to this an out of the way pommel and a deep cantle for extra security and you have just created a true: simple, innovative, riding, accessory. A very light weight saddle.
Order with or without flaps.

To see more options for this model





TIMBERLINE OFFICERS MODEL
This saddle has a modified fork and cantle borrowed from the US McClellan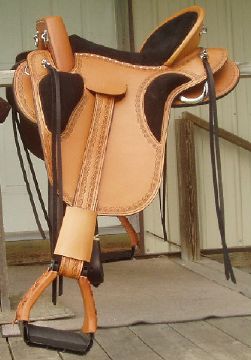 Military saddle. The front of the fork and back of the cantle have loops and rings to carry more gear than a western saddle. The seat is excellent for distance riding. Front and rear thigh rolls create a comfortable and secure groove for the rider. The flaps have been redesigned for a smaller more rounded look.
You can still get the original designed flap.

You can add a small horn.

To see more options for this model