BEAR TRAP

The age old dilemma of security. When it comes to riding, the Bear Trap is like having
several different saddles in one. A deep, tall cantle prevents you from getting blown out the back of the seat. While the saddle supports a fork that's unmatched in security. It has a 14" swell with deep undercuts that allow the thighs of the rider to grab up under the pommel, to handle the toughest trail or the most unruly green colt. It is ideal for most breeds and is a super mule saddle.

To see more options of this model


CONTINENTAL

One of our most popular trail riding saddles. It's contemporary design, with a wonderful deep
seat, that gives the rider back support and the smooth slick fork gives comfort for the all day ride.
ORDER WITH OR WITHOUT FLAP.

To see more options of this model

PHOENIX

The Phoenix is truly an all around saddle. It's classic style western fork and it's
reining style seat makes the Phoenix not only a perfect Arab saddle, but for any breed. Not to mention a spectacular Show Saddle. This versatile saddle is great for trail riding too.
To see more options of this model
RIO GRAND
This is a great all purpose western saddle. Whether you are on an all day trail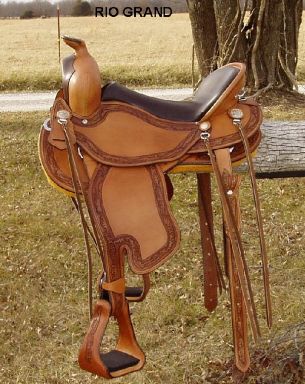 ride or working cows. Deep seated with a good flat pocket to sit in, narrow smooth twist lead into a modest 13 1/2" undercut swell for security. A good working saddle. The Rio is a popular saddle for the rider that is doing a little of everything. Ranch work, trail riding, beginning reining, training colts or packing up into the mountains.

To see more options for this model


SIDE KICK

The "Side Kick" is a versatile saddle for anyone. A very popular saddle due
to the fact it will fit on a variety of horses from an Arab to a flat backed Quarter Horse. A variety of seat sizes are offered in this saddle becasue it is popular with people of all ages. Constructed with a generous flat pocket to sit down into with plenty of cantle for support. Gentle cupped swells come up against your thighs for security.

Order with or without flaps

To see more options for this model




TIMBERLINE CUTTER

The Cutter was built as a performance or ranch saddle.
You can really
get your legs forward in this saddle. The seat has a gentle rise so the rider sits in a secure balanced pocket. The swells are straight and come standard with a 4 ¼ cutter horn. This saddle will allow you to enter Cutting competitions or do all around ranch work.

To see more options for this model


TIMBERLINE ROPER


A saddle designed for the Working People in mind. No matter wh
ether you are "Team Roping or doing Ranch work," this saddle is tough enough for it. You will see improved performance out of your horses, since the flexible panels takes the initial hit away from the horses shoulders and distributes it throughout the panel. No more bars digging into your horse and he dreading the slack coming out of the rope. This is a true performance saddle that is kind enough for you to ride 8 hours a day.

To see more options for this model



VAQUERO

The Vaquero is based off of the early 1900's saddles. This saddle with its
modified "Wade Fork", has the old time western look. It's wide gullet leaves room to set the flex panels for the broad wide shoulders of those hard to fit mules or draft cross horses, and still fit the small ones too. It's wide and flat in the rear to provide comfort for sitting all day. Versatile for all western riding, from the highest mountains to the prairies.

To see more options for this model